The Best Japanese Creamy Corn Croquette
This is a very popular contemporary dish in Japan among children and adults. Inside is super creamy while the outside is crispy. In Japanese, it is called " コロッケ- Korokke".
Usually, the base mixture of Korokke is mashed potatoes. Then the additional ingredients could be, corn, crab meat, or ground beef.
My all-time favorite is corn and cream combinations. My mom rarely made croquettes from a scratch, but whenever I was sick in bed, she always brought me corn cream croquettes for my lunch.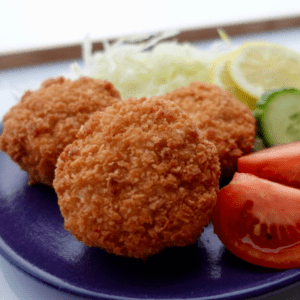 Japanese Creamy Corn Croquette
Creamy inside and crispy outside
Equipment
cutting board

knife

pot

poteto masher

wood spoon

Cast Iron Frying Pan

tongs

plates and bowl

paper towel
Ingredients
Corn Croquette Mixture
1

large size potato

(300g)

¼

cup

butter

(57g)

3

tbsp

all-purpose flour

(22g)

1

cup

milk

(250ml)

⅓

cup

diced onion

(50g)

12

oz

can corn

(280g)

1

tsp

chicken broth powder or vegetable broth powder

(2g)

salt and pepper

for your taste
Breaded Batter
2

large eggs

⅔

cup

flour

(90g)

⅔

cup

panko japanese breadcrumbs

(230g)

2

cup

canola oil

(500ml)
Instructions
Peel and cut the potato into small cub-like pieces

Boil the water. Enough water to cover the entire potato cubes. Cook the potato for 15 minutes until the potato cubes are soft.

Drain the boiled water and then mash the potato while it is hot.

Next, we make white cream sauce.

Melt the butter first in low to medium heat. Then add finely diced onion once the butter is fully melted. Cook for 5 minutes until the onion is soft. Stir constantly, so the onion wont get burned.

Add flour, then stir. Add milk.

Continue stiring until the sauce has thickend.

Add chicken broth powder, salt, pepper, and a can of corn.

Combine mashed potato with the white cream mixture. Put the mixture in the friege and wait for at least 30 minutes – 1 hr for the mixture to cool off before making the coroquette balls because that way it is easier to form the croquette balls.If you have time, I recomend to make the mixture a night before.

Next, let's make croquette batter.

Prepare 2 separate plates, one plate with ⅓ cup flour, and another plate with panko.

Beat 2 large eggs in a bowl, then add ⅓ cup flour. Combine egg and flour well. If the batter is too thick, add some water.

Scoop out a few balls of the croquette mixture and place them on the plate with flour. Flatten them a bit with your hands, use flour so the mixture dose not stick to your skin.

Dip the round croquette balls into the egg batter. Cover them in panko next.

Heat up the oil in the deep frying pot. Set the stove at medium-high heat. To know when the oil is ready, drip a piece of panko in and if it immediatrly rises , ou can start frying process.

Fry the croquettes until they are golden brown. It takes a few minutes. Avoid over frying becuase the croquettes will explode and burn. Place the cooked croquettes on a plate with a paper towel. The paper towel will drain the excess oil and make the croquette crisper.

Serve with your favorite salada on the side.
Video
Notes
*International measuring size: 1 cup=250ml, 1tbsp=15ml, 1tsp=5ml
🌽 コーンコロッケの作り方
コロッケの具
大きめのじゃがいも1つ 300g
バター 57g
小麦粉 22g
牛乳 250ml
小さめの玉ねぎ みじん切り 50g
コーン缶 280g
コンソメの粉 2g
塩胡椒 お好みの量
ころみの材料
小麦粉 90g
エルサイズ卵 2つ
パン粉 230g
揚げ用油 500ml
手順
1.じゃがいもの皮をむいて、キューブ型に切ります。
2.じゃがいも全部が沈む程度の量のお湯を鍋で沸かして、15分程度じゃがいもが柔らかくなるまで茹でるます。
3.お湯を捨ててザルでしっかり水分を切ってから、じゃがいもを鍋に戻して熱いうちにつぶします。
4.次に、クリームを作ります。別の鍋でバターを中弱火で溶かします。バターが溶けたら、みじん切りの玉ねぎを加えて5分ほど炒めます。焦げないように気をつけて下さい。
5.小麦粉を加えて混ぜてから、牛乳を加え、生地がぼったりしてくるまで混ぜます。
6.コーン缶、コンソメパウダー、塩、胡椒を加えて味を整えます。
7.マッシュポテトとクリームの生地を混ぜ合わせ、生地を30分程度冷ませます。生地が熱いとコロッケの形成がしにくいからです。
8.お皿を2つ用意ます。一つの皿に半分の量の小麦粉45g、別の皿にはパン粉を準備します。卵2つをボールの入れて溶いた後、残りの小麦粉を加えて混ぜます。卵の生地がぼったりしすぎの場合は、少し水を足して下さい。
9.スプーンを使って、ゴルフ玉程度の大きさにコロッケの生地をすくいます。小麦粉の皿にまずのせて、小麦粉をしっかりつけてから手のひらで形を整えた後、卵の生地に入れて、その後に、パン粉の皿でパン粉をまぶしてコロッケの最終形成をします。
10.油を中強火であっためます。パン粉を試しに油に落としてみて、すぐ浮き上がる程度が適温の証拠です。
11.3分程度コロッケが小麦色になるまで揚げます。長く揚げすぎたり、油の温度が熱すぎる場合は、コロッケが茶色くなったり、爆発するので注意してください。
12.サラダとお好みのタレでお皿を盛って、召し上がれ。
Delicious
Super yummy and my family enjoyed them. Would love to make them again.
Read and Write Reviews Below